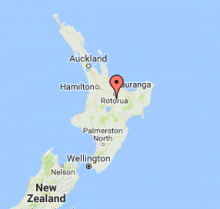 Kerosene Creek is located in the Rotorua region of the central North Island of New Zealand
35km south of Rotorua, 65km north of Taupo
On this page: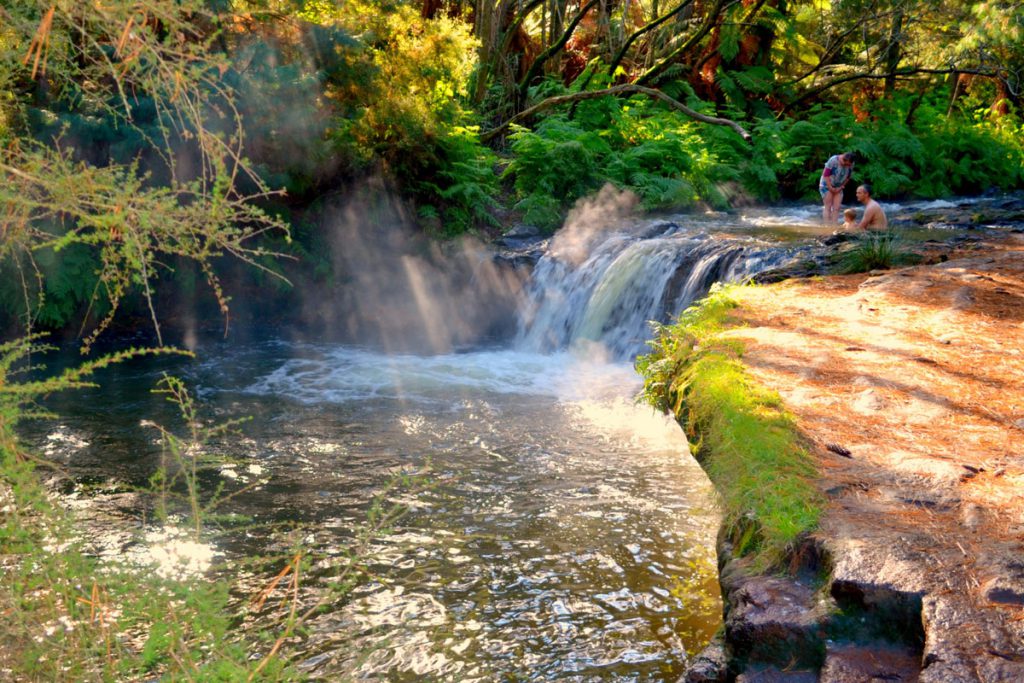 Photo Credit: Terry Lee. Showing main pool below waterfall
Description
The hot spring is a small stream and flows downhill through natural bush. There is a good old kiwi corrugated iron changing shed there. Bathers have excavated small smooth rocks to form their own little hot pools that you can sit next to and enjoy the hot water cascading down. It's a very effective way to ease aches and pains after a hard tramp. It's a good idea to be aware of the dangers of theft from vehicles parked at the beginning of the track down to the pools and to ensure that you don't leave valuable items in your car.
(Description provided by Pat MacKay, Auckland)
Directions
Heading south from Rotorua on the road to Taupo (about 30km):
Pass the turn off to Murupara on your left
Pass a lake on your right
Then take the next left turn, just past a small bridge (only about 1/2 km from the Murupara turnoff)
The signpost is Old Waiotapu Road
Trip your odometer at the start of this forestry road
Stop exactly 2.2km down the road and pull over to the grass verge on the right
Follow the path down a couple of hundred metres beside the stream to the pool itself.
Enjoy!
(Directions provided by Rowena Yalland, New Zealand)
Location / Google Map
Photos
Have a photo to share? Email it to me: sheldon@kerosenecreek.co.nz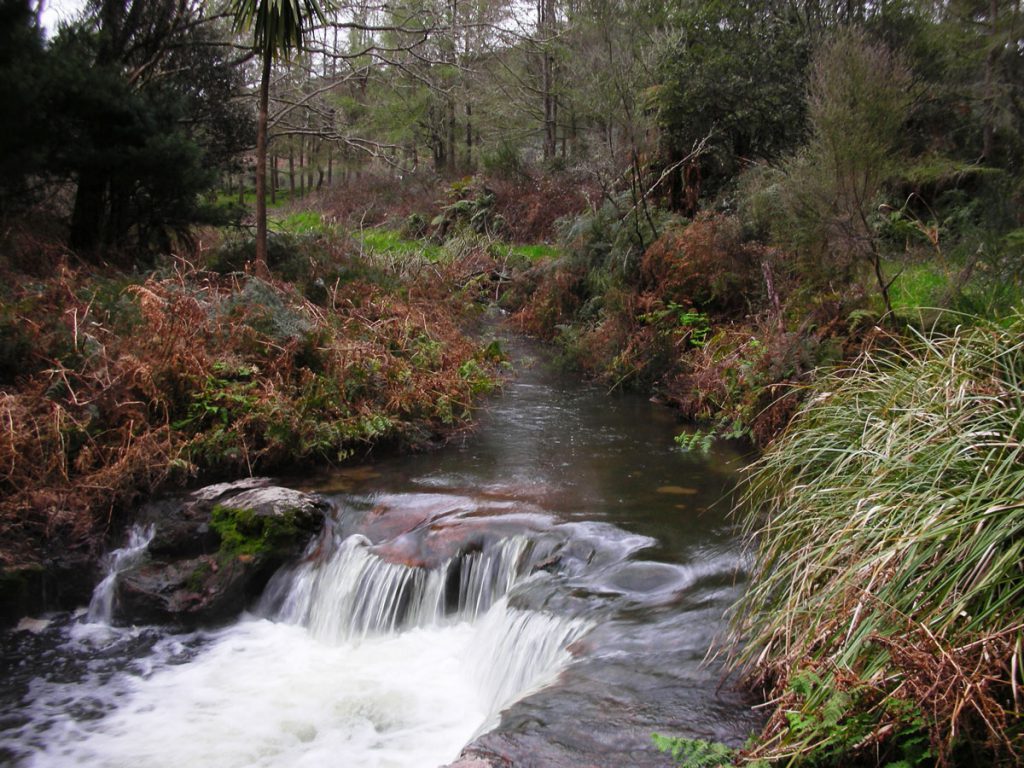 Photo Credit: Andrew Vu. Showing "Jacuzzi Pool" just upstream from the waterfall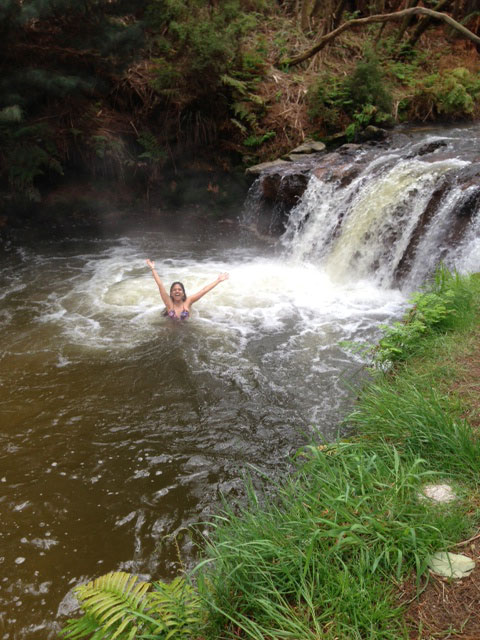 Photo Credit: Twinkle Varma. Showing main pool below waterfall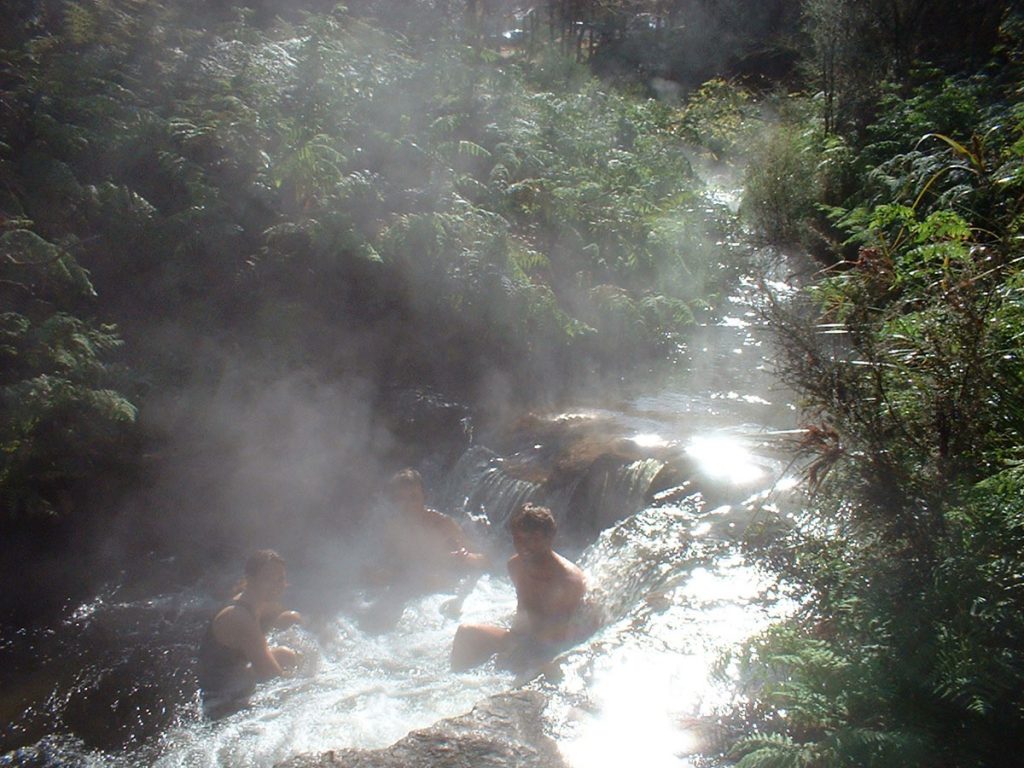 Photo Credit: Mark Craies. Showing "Jacuzzi Pool" just upstream from the waterfall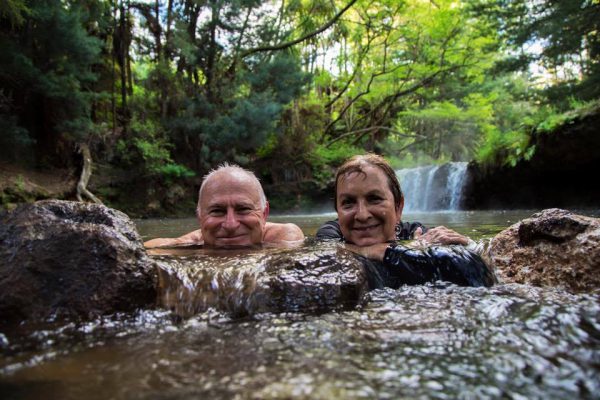 Photo Credit: Familia Schurmann. Original [Facebook]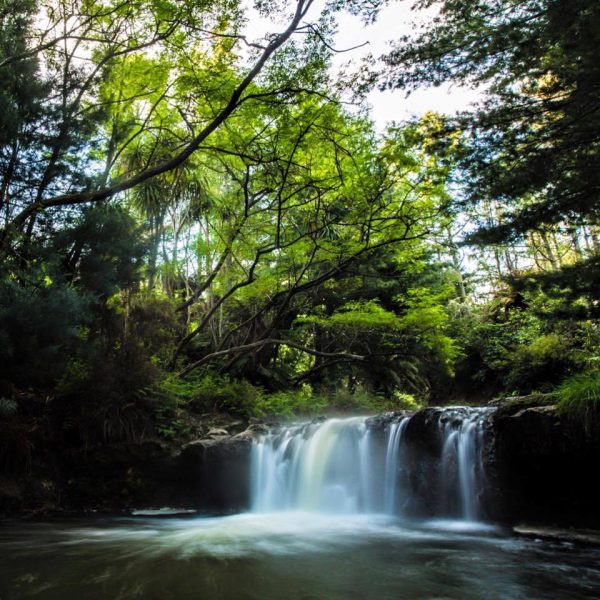 Photo Credit: Familia Schurmann. [Facebook]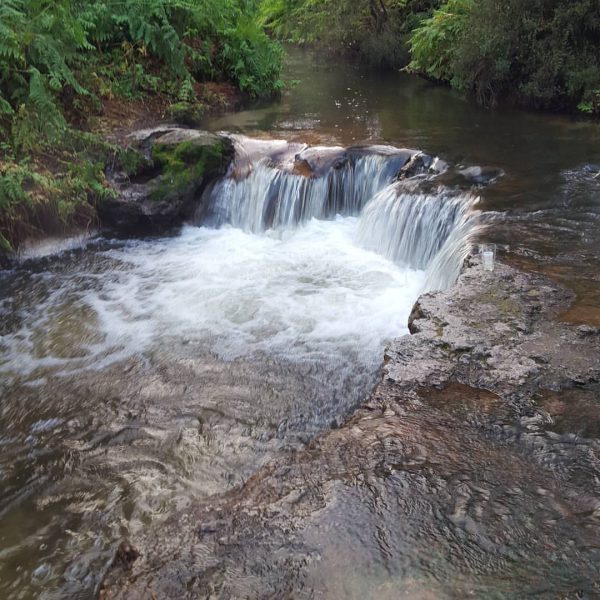 Photo Credit: The Magic Brush [Facebook]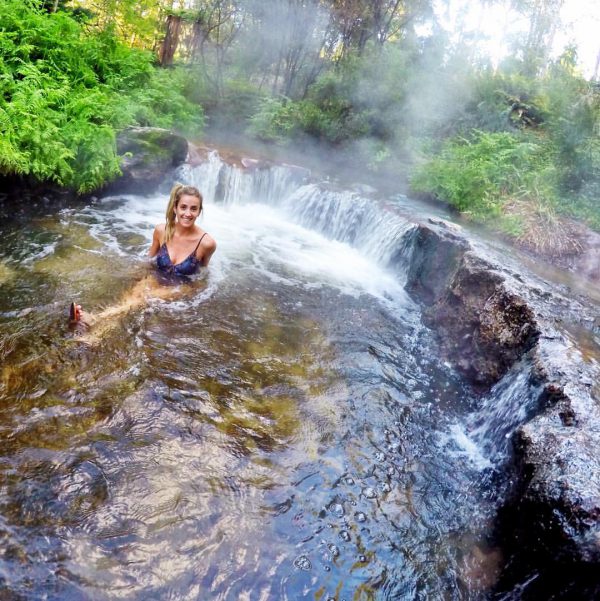 Photo Credit: Oi Gurias [Facebook]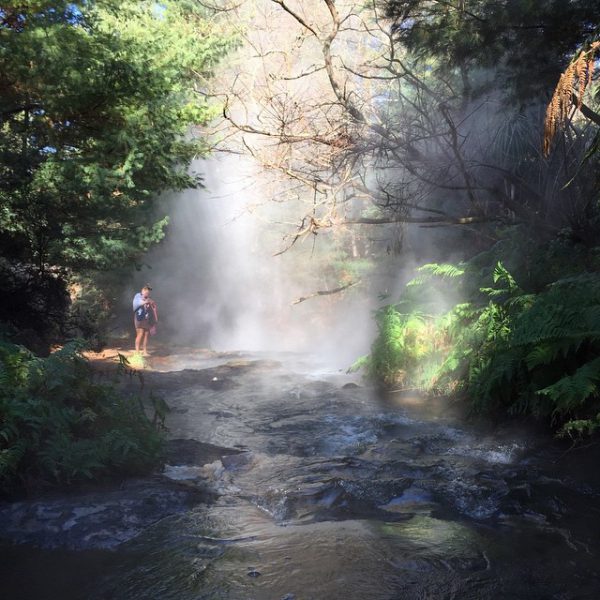 Photo Credit: Green Power Monitor [Facebook]
Reviews
---
Beautiful creek, HOT! good size pool dug out with a sandy bottom, longdrop toilet at the carpark, road has been re done so there are no potholes.
Rating: 10/10
Hanmah – Waiouru New Zealand
22th December 2015
---
!!!!! WE GOT ROBBED!!!!!!!!! RENTED TOURIST CARAVANS, CARS, CAMPERS ARE THEIR TARGET!!! Be warned about this place. While the attraction itself is amazing, local youths are thieving!!! Our campervan was broken into with crow bar and EVERYTHING was taken (passports, phones, go pros, all clothes, toiletries and backpacks/ suitcases).We hid everything under the seats as well because we were weary but these guys are pros. BE WARNED !!!!!
Rating: 1/10
Katie – U.K.
17th October 2015
---
Went about 6 months ago. The awful state of the potholed 'road' in spoils it for me (the worst public road I have been on in NZ, and I come from the South Island!). You should drive very carefully and slowly, I wouldn't risk taking a rental car down it for fear of 'bottoming out'. Not sure why that is (forestry wants to discourage the public from using it?). Pools themselves not bad. Unusual smell of the water takes a while getting used to. Plenty of space. Quite a nice variety of places to bath in and spread out (stream or beneath the waterfall).
Rating: 6/10
Bren – Christchurch
27th October 2015
---
Well…yeah, the road is dirt and full of fun potholes and yeah…the site is undeveloped for the most part, but that's the way Alaskans like things. Undeveloped. Lots of native folks hanging around just chilling and taking a dip. If you go on a weekday the place is pretty quiet. I had it all to myself for the most part. Beautiful! So great to just lay back in the water under the falls and look up through the tree canopy.
Rating: 10/10
Karen M McLane – Nome Alaska USA
23th August 2015
---
Went to Kerosene at about 8am on a Sunday morning after a rowdy night (was hungover) wasnt many people there, round about 2 car loads. The water was beautiful and hot, we didnt want to leave. We then came back at about 3pm and there was soooo many people like way too many people (12-16 car loads) and lots of screaming children. They absolutely ruined it for me, supposed to be relaxing but i suggest if you want it to be relaxing, wear ear plugs. Or go after 9pm or before 9am. No rubbish from what i could see. so it was really nice and natural, and to the sneaky skinny dippers down the stream, lucky for you we didn't hide your clothes !! In broad daylight, lucky i wasn't a little child. ALSO; TAKE OFF YOUR JEWELRY AND LEAVE IT IN THE CAR, after my relaxing little swim, got out of the water and all my jewelry had gone from silver to bronze!! apparently it was because of all the sulfur in the water?
Rating: 8/10
Nicole – Tauranga
07th September 2015
---
Horribly pot holed road to get there. The warm bit of stream and waterfall are very nice and warm. HIDE ALL VALUABLES. We went back to our car (Rav4 which doesn't have a proper hidden boot) and had been broken into. We kept some valuables with us and tried to hide others but they got our laptop bag which contained passports. Should never have left them but then we may have been more at risk. The handwritten 'Thieves burn in hell' sign is most apt. Be very careful or don't go if you can't protect your belongings.
Rating: 4/10
Chris – Scotland
7th October 2014
---
????????????? ??????????????????????????????? ??????????? ??????????????????????????????????????????5????????????????3?????????????????
Translation: Here is a wild hot springs . Sight of flowing hot springs Gazaazaato in the forest does not only see here . And it's suitable temperature to bathing . Izumi quality unknown , then the gory distinctive smell . Let's dive Because it is long-awaited . A bumpy road for about 5 minutes , after get off at a dead end , a 3-minute walk , please be aware of the car theft .
Rating: 4/10
Masashi – Japan
13th December 2014
---
Rainbow springs Mtb trk awesome, soak in the stream amazing but can someone fix the disgusting road in/out. Pot holes to die in. Come on Tourism Rotorua count your dollars we spend.
Rating: 5/10
Shane Taylor – NZ
13th October 2014
Well thanks we did exactly what you told us re the directions to kerosene creek and did not find anything but a very steep path going down to a very tiny smeely dirty bit of water, got injured climbing back up. You should have more sign posts telling people where to go, we passed lots of lost cars on the way. Not clear at all. Very disappointing
Rating: -/10
Lesley – nz
31st August 2014
---
Totally loved soaking in the lovely warm water at Kerosene creek amongst the peaceful bush setting. Will definitely be going back there next time.
Rating: 10/10
Rose –
4th August 2014
---
what a gem in the wonderness that is New Zealand
Rating: 10/10
nene Martis – cairns
4th August 2014
---
This could be a really amazing family fun place. We enjoyed our swim, but found big glass chunks a little down from the main pool. I know locals who stay away from there because of the drinking (rubbish thrown up the bank, glass in the water) and potential to come across skinny dippers. For some back packers this is what makes it, but for local families, it's what can ruin it. Will return but have an adult check it out before taking kids down.
Rating: 8/10
Sez – Rotorua
29th April 2014
---
Read 100+ more reviews / Write your own